Among its many employees, SGH Warsaw School of Economics had many ministers, prime ministers, senators and members of parliament. There was one President. Stanisław Wojciechowski, lecturer of what was then called the Higher School of Economics, was elected to that office by the National Assembly precisely one hundred years ago, on 20 December 1922. As the election took place during the academic semester, Stanisław Wojciechowski continued his classes during his tenure.
In 2022, SGH Warsaw School of Economics inaugurated the celebration of the 100th anniversary of the assumption on the office of President of the Republic of Poland by Stanisław Wojciechowski.
Anniversary celebration program (in Polish)
19 December
[building A, ul. Rakowiecka 24]
unveiling of a plaque commemorating President Stanisław Wojciechowski and his connections with SGH by the President of Poland Andrzej Duda,
[SGH Library, 1st floor, ul. Rakowiecka 22b]
exhibition of archival documents concerning Stanisław Wojciechowski and family memorabilia from the collection of the great-granddaughter of President Wojciechowski, the deputy speaker of the Seym (lower house of the Polish Parliament) of the Republic of Poland Małgorzata Kidawa-Błońska,
premiere of a biographical film prepared on the occasion of the 100th anniversary of assuming the highest office in Poland by a professor of our university.
22 December | 11.00-11.30 a.m.
[building M, ul. Madalińskiego 6/8]
unveiling of a mural commemorating the President from SGH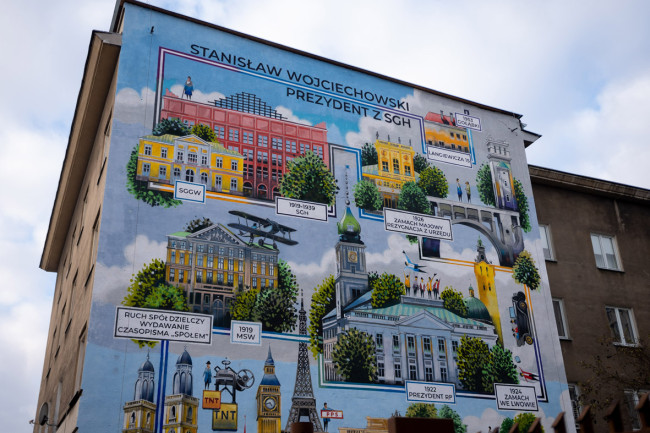 ---
Stanisław Wojciechowski was born on 15 March 1869 in Kalisz. In 1888, he enrolled in the University of Warsaw. At that time, he was involved in a student conspiratorial organisation. In 1892, he was forced to leave Warsaw for Zurich, and then Paris and London. As an émigré, he co-founded the Polish Socialist Party, printed underground publications, and delivered arms and printing press to the country.
In 1906, he returned to Warsaw and focused on organising the Polish co-operative movement. In January 1919, he was appointed Minister of Internal Affairs; later on, he was involved in drafting the constitution. At the same time, he started lecturing at the Higher School of Economics (later to be SGH). He taught there until the end of 1939. After the assassination of President Gabriel Narutowicz, on 20 December 1922, Wojciechowski was elected President of Poland by the National Assembly. In 1924, he survived an assassination attempt in Lviv. On 14 May 1926, as a result of the so-called May Coup, he resigned his office.
During his political retirement, Wojciechowski went back to research and teaching. His home at 15, Langiewicza Street was deliberately set on fire by the Germans during the Warsaw Uprising. Together with his wife and thousands of other inhabitants of Warsaw, he went through the Pruszków camp; he later settled in Gołąbki, where he died almost completely forgotten on 9 April 1953. He is buried at the Powązki Cemetery.
More about President Stanisław Wojciechowski in Gazeta SGH (SGH Magazine)
Stanisław Wojciechowski – the President from SGH
SGH opens exhibition commemorating President of the Republic of Poland Stanisław Wojciechowski
Stanisław Wojciechowski – President of Another Century
"Fair and righteous politician" – an anniversary seminar on Stanisław Wojciechowski for the 100th anniversary of his election as President of Poland
Exhibition of academic and journalistic papers of Stanisław Wojciechowski – the "President from SGH"