SGH account allows using SGH IT systems, according to granted permissions. Using SGH cloud you can change password, update verification method and security informations, manage Microsoft Office software on different devices and more.
To go to the account settings, log in to this website:
and click on the avatar (initials or photo) in the upper right corner, and then select the option View account.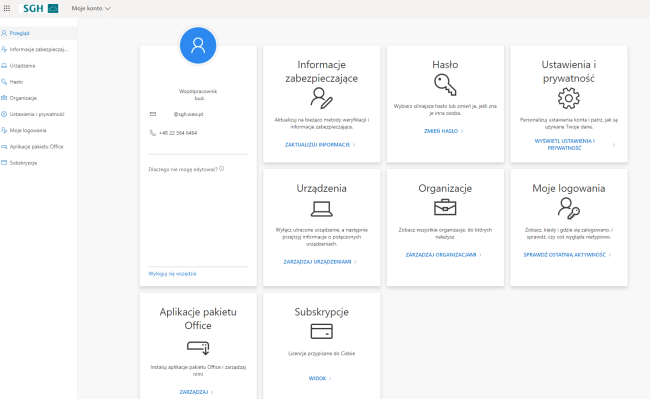 After selecting individual options in the menu in the form of a list on the left side or in the form of tiles in the center, user has an option to:
Security information - change the account's security information, i.e. the phone number to multi-fator authentication
Devices - Turn off a lost device, such as a lost phone, so that no one else can access it
Password - change the password
Organizations - Check information about the parent organization that manages the account
Settings and privacy - set language, regional format, time zone
My logins - check recent activities, places and times of login
Office applications - Install and manage Office applications
Subscriptions - Check the licenses of the programs user has an access to
Multi-factor authentication settings (MFA)

While signing in for the first time, you must set up multi-factor authentication for your account. More information can be found on this website

Photo settings

To display a photo in profiles of Microsoft applications, e.g. Teams sign in to the SGH cloud, press avatar with initials and upload a new photo or drag it to a designated place.

However, if you want to have a visible photo in other SGH systems, e.g. APD or USOS Address Book, send an e-mail to the address ksiazka@sgh.waw.pl with the photo attached.

Setting first password

After creating an account in the SGH domain, a message with username and a link to set a password will be sent to a private e-mail address. The link will be valid for 5 days from the date of receiving of the message.

If the link expires, use the password recovery option on this website:

Password requirments

The password should have at least ten characters and can't contain parts of user's name or surname longer than two consecutive characters. The password must contain characters from three of the following four categories:

capital letters (A to Z)
lowercase letters (a to z)
digits (0 to 9)
non-alphabetic characters (for example!, $, #,%)

Manage your account using the account application

After sign in to this website:

you can perform the following actions:

check the date of the required password change
block the student card
generate an e-mail footer
check license codes for statistic programs
register guest in SGH_WIFI_SMS network
Information Technology and Infrastructure Centre
IT Support Team
Rakowiecka 22B, building B (Library), room 1
phone: 22 564 6464
e-mail: helpdesk@sgh.waw.pl