Why study Finance and Accounting with ACCA qualification (practical profile) at SGH?
The second-cycle studies in Finance and Accounting at SGH Warsaw School of Economics provide advanced finance-oriented knowledge concerning financial management of business entities, including financial institutions, with particular interest in the determinants of managerial decisions made on the basis of results of financial analyses and research, as well as specialist knowledge providing good basis to exercise professional work and to continue further education. 
Career prospects

A graduate of the Finance and Accounting Programme will gain professional qualifications for finance-related professions in international business and financial institutions. This master degree opens access to such positions as: 

Chief Financial Officer 
Auditor (Internal or external) 
Financial advisor 
Business controller 
Financial analysis 

Mode and duration of study

Mode of study: full-time

Duration: 2 years (4 semesters)

Admissions and tuition

Admissions

The application and admissions procedure has the following stages: 

registration in the online system,
submission of required documents,
end of submission of documents period,
verification of documents by SGH,
issuing decisions on admission,
information about registration for classes sent by Master Dean's Office (in the registration system).

More information can be found here: 
application and admissions procedure for foreigners 
application and admissions procedure for Polish citizens​

Tuition

2550 EUR per semester

Benefits

A graduate of the second-cycle studies in the field of Finance and Accounting at the SGH Warsaw School of Economics: 

Knowledge

understands, at an in-depth level, selected facts and processes taking place in the economy and the society, as well as the related research methods and theories which constitute advanced general knowledge in the discipline of social sciences - a theoretical foundation of key problems and aspects in the field of advanced specialist knowledge in the major of Finance and Accounting at SGH, 
knows fundamental dilemmas of the contemporary global civilisation, the practical aspects of analysing, comparing and selecting investment solutions and the ways to raise funds to conduct business, as well as the explanation, interpretation and assessment of the impact of legal regulations, including tax regulations, on doing business,
understands, at an in-depth level, the practical aspects of interpretation and application of advanced principles of financial accounting, as well as of management accounting instruments, including cost accounting,
knows the process of financial planning and principles of choosing suitable instruments to plan and control and the significance of identification, assessment and forecasting of consequences of risk taken within the operation of business entities, including financial institutions​,

Skills

is able to apply the acquired knowledge - identify, interpret and explain complex financial phenomena and processes, formulate and solve complex and non-standard problems in the area of finance and accounting in unpredictable circumstances based on:

the right selection of relevant sources and information derived from them, performing assessment, critical analysis, synthesis and creative interpretation and presentation of this information,
selection and application of research and relevant analytical methods and tools adequate for finance and accounting including advanced information and communication techniques and technologies,

has the skills necessary to make thorough financial analyses, also those based on management accounting instruments, to formulate conclusions and recommendations accordingly, as well as to calculate investment effectiveness and cost of financing together with determining the optimal investment portfolio/sources of financing,
has the abilities required to estimate the level of financial risk and to formulate conclusions and recommendations, to act efficiently under stress and time pressure, as well as to make financial plans of a business entity, 

Social competencies

is ready to critically assess the knowledge gained and the content received, 
shows initiative and involvement in organising teamwork, including interdisciplinary teams,
displays understanding and acceptance of the principles of corporate social responsibility and the need to apply them,
responsibly performs professional roles accounting for changing social needs in the international environment, such as: developing professional heritage; maintaining professional ethos; obeying and developing the principles of professional ethics and acting towards preserving them.​

The list of learning outcomes and programs for the first and second cycle programs at SGH 
ACCA accreditations
Image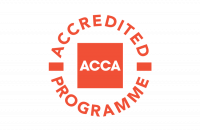 It is possible to obtain not only a master's degree in Finance and Accounting from SGH Warsaw School of Economics, but also the ACCA qualification, an internationally recognised professional qualification. The programme is led in cooperation with EY Poland.